Recent News:
Just released!
Quilts: Exploring Texture and Dimension
This book features my techniques for creating strips, curvy strip piecing, tubes, pleats, full and partial facings and multiple surface layering to achieve texture and dimension in your work. You will enjoy incorporating these simple, but exciting and unique manipulations into your quilts.
This book contains new and revised material from my manipulations chapter in my book, Quilting By Improvisation, now out of print and no longer available. These are the techniques I teach in my classes. This book contains new illustrations, photos and layout. $22.95      56 pages
$6 shipping for the entire cart within the US!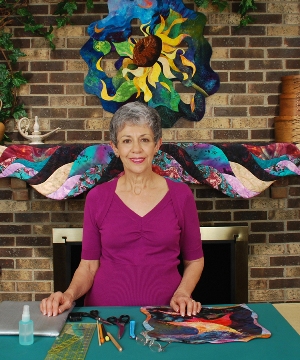 DVD "Crazy about Curves" is available in two formats: NTSC for USA viewers and the PAL version for my overseas audience.
NTSC 2-disk (USA Format): Retail Price $29.95
On Sale now for $19.95
Nurture Your Creative Spirit: Wisdom and Insight Learned Through the Art of Quilting

ISBN 978-0-615-61794-7
8" x 10", perfect-bound softcover, 152 pages in full color
Printed in the USA

On Sale now $12.00
There are lots more great gift ideas -
including thread and patterns on my shop page.

To be added to my mailing list, please email me here: vikki@vikkipignatelli.com
---
Have you ever wished for an easy method of machine piecing intricate curves, or wanted to incorporate curved designs into a quilt but had no inkling where to begin? Hi, I'm Vikki Pignatelli. When I first began quilting, I visualized beautiful curved designs, but the traditional method of piecing curves left me frustrated. I knew there must be an easier way. After much trial and effort I did find a way. . . and now I'm crazy about curves!


I am the founder of the Sacred Threads Quilt Exhibition. The national exhibit, held biennially, displays work from all over the United States and Canada and features themes of spirituality, inspiration, healing and grief.
I was the Artist in Residence at the 2015 Sacred Threads exhibit.
To be added to the Sacred Threads mailing list and to learn about the 2015 exhibit, please visit the website: Sacred Threads Website.

Please contact me for more information about my books, classes, lectures and workshops at vikki@vikkipignatelli.com